Retiree Health Coverage
Keep your Retirees Happy
White, Grego & White Insurance provides retiree health coverage to businesses in Kansas City, Platte City, Liberty, North Kansas City, Parkville, Smithville, and surrounding areas.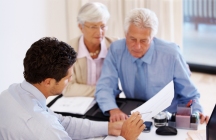 The number of retirees will continue to increase, whether or not your business and its resources do as well. This burden can be overbearing for you and your business. White, Grego & White Insurance understands the need for you to keep retirees happy while maintaining the efficiency needed to run a successful company. We offer retiree medical plans that will help benefit your business and your former employees.
White, Grego & White Insurance offers quality coverage solutions to your business, including:
?Medicare
Customized retirement plans
Prescription coverage
And more …
Contact a representative at White, Grego & White Insurance today to go over retiree health coverage options for your business.
Our Locations
White, Grego & White Insurance
10034 N Ambassador Drive
Kansas City, MO 64153
Main office:
816-436-4132
Fax:
816-436-4143
White, Grego & White Insurance - St. Joseph Office
612 South Woodbind Rd #C
St. Joseph, MO 64507
Main office:
816-259-5170
Fax:
816-259-5168
Testimonials
Accommodating, professional, helpful, and quick. Very comfortable experience and I was impressed by their capabilities. Highly recommended.
I feel lucky to have found an agent willing to provide this level of service. No need to look anywhere else!
Over the years we've never once had to worry about our coverage. My husband and I are long-time customers and proud to be.
Surprisingly flexible and in-touch with my needs as a small business owner. Can't ask for more.
They have strong ties with the community, and it shows. It's nice to do business with people that really show they care about you and your family.