Group Disability Insurance
Effective Solutions for Managing your Employees
White, Grego & White Insurance provides group disability insurance to businesses in Kansas City, Platte City, Liberty, North Kansas City, Parkville, Smithville, and surrounding areas.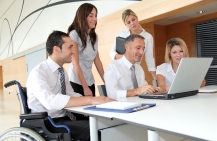 Happy employees make for a productive workplace, thus helping assure that their protection creates a more positive working environment. White, Grego & White Insurance understands that income stability for workers is not enough. What happens if an employee cannot work due to a disabling illness or injury?
White, Grego & White Insurance provides group disability solutions that will assist employees in replacing parts of their income while they are absent from work. This provides the expertise needed to reduce employee absences, ensuring that your business can continually run as efficiently as possible.
Our group disability coverage options include:
Short-term disability
Long-term disability
Statutory disability
Absence management services
Contact an insurance specialist at White, Grego & White Insurance to set up a consultation.
Our Locations
White, Grego & White Insurance
10034 N Ambassador Drive
Kansas City, MO 64153
Main office:
816-436-4132
Fax:
816-436-4143
White, Grego & White Insurance - St. Joseph Office
612 South Woodbind Rd #C
St. Joseph, MO 64507
Main office:
816-259-5170
Fax:
816-259-5168
Testimonials
Accommodating, professional, helpful, and quick. Very comfortable experience and I was impressed by their capabilities. Highly recommended.
I feel lucky to have found an agent willing to provide this level of service. No need to look anywhere else!
Over the years we've never once had to worry about our coverage. My husband and I are long-time customers and proud to be.
Surprisingly flexible and in-touch with my needs as a small business owner. Can't ask for more.
They have strong ties with the community, and it shows. It's nice to do business with people that really show they care about you and your family.